Kuuntele tai lataa tästä erikseen ASUT kirja kerrallaan mp3
Kuuntelu alkaa napsauttamalla jotakin ASUT kirjan nimeä.
Lataus: Napsauta ensi jokin soimaan, sitten napsauta DOWNLOAD nappia  hiiren oikealla ja valitse  "Tallenna kohde nimellä…" tai "Save Targer As…" tai "Spara som…"
Lataa tai kuuntele tästä suomenkielen tarkin Uusi Testamentti, löytyy myös PDF, ja raamattumodulit e-Sword ja The Unbound Bible Raamattuohjelmalle.
Lue tai lataa ASUT PDF tästä
http://www.biblecenter.se/rsm/ASUT/AapeliSaarisalo_UT_ruskeapiste.pdf
Lataus itselle alkaa napsauttamalla linkkiä hiiren oikealla napilla ja sitten "Tallenna kohde nimellä…" tms.
ASUT ZIP PAKETTI kaikki kerralla
http://www.biblecenter.se/rsm/ASUT/ASUT_MP3_PDF_ESWORD_Unbound_2014_07_17_A.zip?forcedownload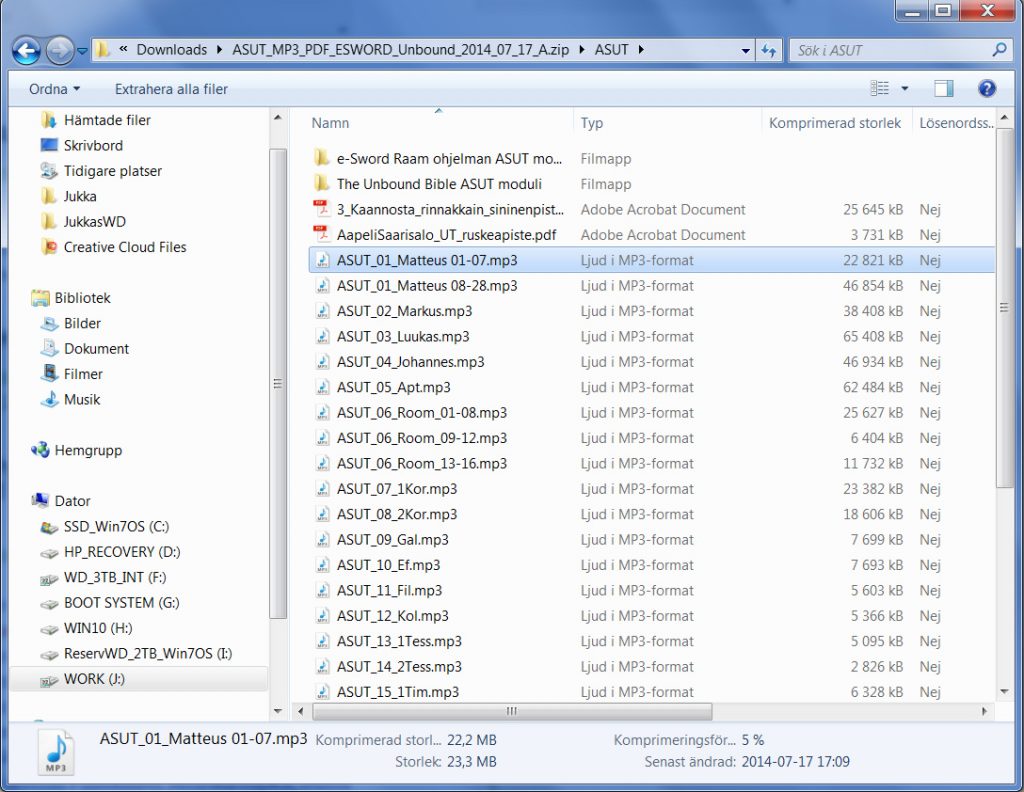 Kuva yllä: ASUT ZIP sisältää myös PDF ja kol me käännöstä rinnakkain Raamattu PDF ja ew-Sword ja The Unbounsd Bible modulit.
Tällä haulla löytyy ASUT Raamattu modulit The Unbound Bible ja e-Sword ym eli kaikki ASUT:stä.
https://www.biblecenter.se/jeesusonherra/?s=ASUT
Shalom! Todellakin siinä luettiin näin "Jeesus aterioi veronkantajien kanssa".  Sen aikaiset veronkantajat olivat myös rosvoja, jotka ottivat itselleen enemmän kuin oli lupa. Kuuntelin tätä autossa Smartphone Samsung S5 ja Bluetooth autostereon kautta ja huomasin tuon oikean käännöksen, joka kolahti korvaan "veronkantajia" monet raamatut puhuvat vain Publikaaneista. Myös Jumalan Kansan Raamatun alaviite selittää Publikaanit veronkantajiksi, mutta ei esim 1938 Uusi Testamentti selitä tätä.
Eli aterointi on myös yksi evankelioinnin muoto kunhan puhutaan pelastuksesta, taivaasta, helvetistä, syntien anteeksisaamisesta rukouksessa ja puhumalla Jeesuksen nimessä ja veressä! Jeesus ei mukautunut sen aikaisiin maailman ihmisiin.
10 Kun Hän oli aterialla tämän kotona, niin katso, tuli monta veronkantajaa ja syntistä aterioimaan Jeesuksen ja Hänen opetuslastensa kanssa.
 11 Nähdessään tämän fariseukset sanoivat Hänen opetuslapsillensa: "Miksi opettajanne syö veronkantajien ja syntisten kanssa?"
 12 Mutta kuullessaan Jeesus sanoi heille: "Eivät terveet tarvitse parantajaa, vaan sairaat.
 13 Mutta menkää ja oppikaa, mitä on: 'Laupeutta Minä tahdon enkä uhria.' Sillä en ole tullut kutsumaan vanhurskaita, vaan syntisiä." ASUT Matt 9:10.
ASUT Windowsille on saatavissa e-Sword modulina, sekä The Unbound Bible modulina tältä sivustolta ilmaiseksi. Katso iso ASUT zip paketti. Eli yllä oleva ASUT Raamatun lainaus on otettu The Ubound Bible ohjelman kautta, joka on näppärä monikäännöksinen Windows ohjelma, joka tulee tänne jakoon…
KOKO JEESUSONHERRA  SIVUSTO