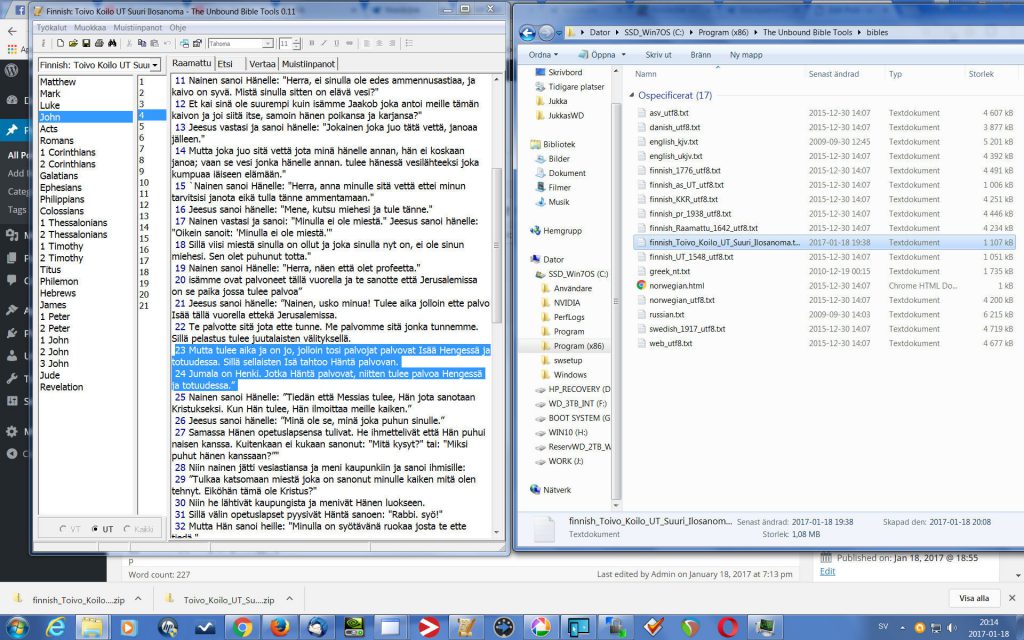 Shalom! Ensimmäistä kertaa. Tämä  tarkka UT
23 Mutta tulee aika ja on jo, jolloin tosi palvojat palvovat Isää Hengessä ja totuudessa. Sillä sellaisten Isä tahtoo Häntä palvovan.
24 Jumala on Henki. Jotka Häntä palvovat, niitten tulee palvoa Hengessä ja totuudessa." Joh 4:23 Toivo Koilon UT

Vain ASUT ja Toivo Koilon UT kääntää täysin oikein tämän kohdan! Muut käätävät sanan rukoilla sanan  palvoa/palvoja joka on oikein siis.

Toivo Koilon UT Suuri Ilosanoma nyt The Unbound Bible modulina ko. Raamattuohjelmalle!
Ilmainen The Unbound Bible eli sitomaton raamattuohjelma on sellainen että sille on helppo tehdä Raamattumodileita  ne on pelkkää tekstiä selkäessä muodossa ja näistä edelleen joku voi tehdä mobiilipuhelimille Raamattuja.
Vastakohta on e-esword jolle on tehty erittäin vaikeaksi tehdä lisää Raamattuja. Mutta ASUT ja JKR toimii vielä 2017 Tammikuussa e-swordilla mutta niihin ei enää tehdä päivityksiä. Jos  ne on tärkeitä sinulle lataa tältä sivustolta vanha e-sword aloituspaketti äläkä päivitä sitä.
Lataa tästä The Unbound Bible Toivo Koilon UT Suuri Ilosanoma ilmaiseksi.
http://www.biblecenter.se/files/finnish_Toivo_Koilo_UT_Suuri_Ilosanoma.zip
Napsauta likkiä yllä ladataksesi Toivo Koilo UT Suuri Ilosanoma. Kun se on tullut koneellesi, Napsauta ZIP paketti auki. Kopioi tiedosto The Unbound ohjelman BIBLES eli RAAMATUT hakemistoon, jonka voi avata Unbound ohjelman kautta, kohdasta valikko-> OHJE ->Raamattu kansio tai menu-> HELP -> BIBLES
Ubound Raamattuohjelmalle on saatavissa myös Aapeli Saarisalon UT.  Sekä joissakin tapauksissa JKR, jota voit kysyä allekirjoittaneelta.
Hae kaikki UNBOUND asia, raamatut tieto ja ohjeet tältä sivustolta tällä linkillä. On myös video-ohjeita.
https://www.biblecenter.se/jeesusonherra/?s=unbound