Jukka414 Evankeliointi ja 40W PA vahvistin Bluetooth Mikseri Akku 6 tuntia Behringer MPA40 BT PRO
Jos soitat instrumenttia tai laulat miksi ostaisit jonkun toisen tiiliskiven kokoisen saman hintaisen bluetooth kaiuttimen, joka ei riitä kuin "radion kuunteluun" kotikäyttöön EI PA käyttöön.  PA kaiuttimet kestää ylilyöntiä esim kitarasta, matkaradiot ei.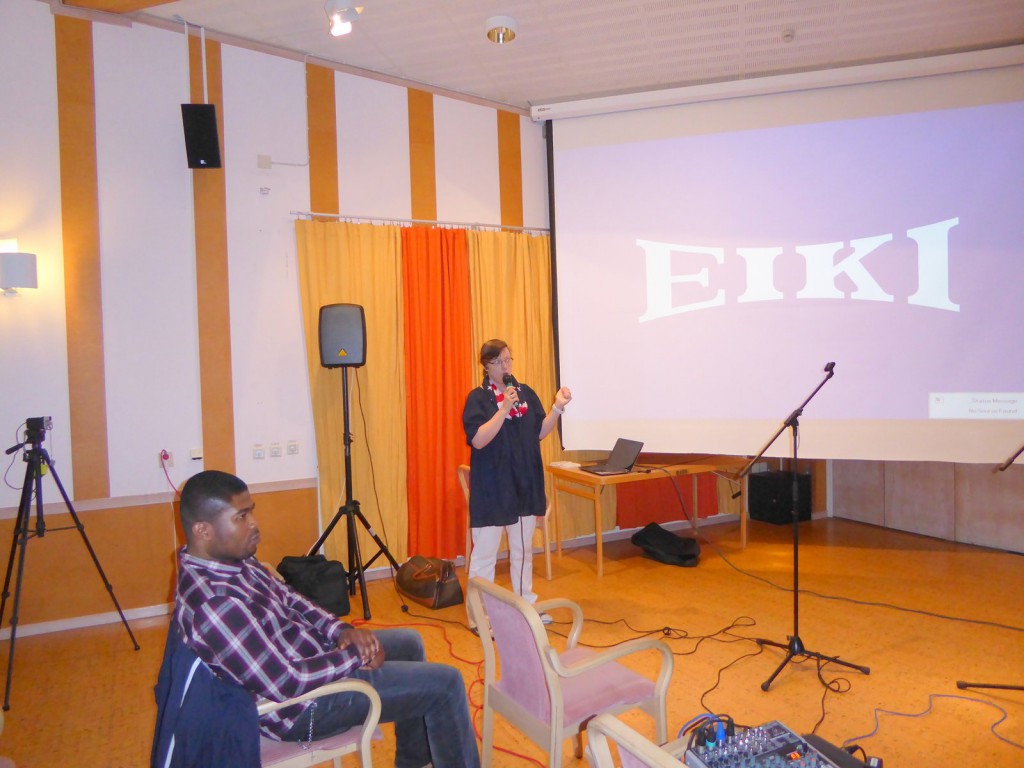 Kuvassa on tämä vahvistin/aktiivikaiutin käytössä Behringer mikserin kanssa, jossa kompressorit, ei huuto mene särölle.
Tämä on hyvä vahvistin yleiskäyttöön ja evankeliointiin. Sisäinen akku 6h, mikseri 2 mikki/linjatuloa. 2 RCA tuloa, bluetooth. Videolla jäi sanomatta että kaksi mikserikanavaa on sekä linja että mikkitasoisia. Eli niinhin voi syöttää myös mikseristä. Aivan samat kuin Behringer B115MP3 tai B115D tulot. 40W vattia riittää 40 ihmiselle. Todella hyvä ääni, jota jaksaa kuunnella.
Hinta oli noussut siitä mitä sanoin videolla ostin tämän 1v sitten, mutta hyvä laite joka tapauksessa.
Tässä Thomann ruotsin sivuilta.
http://www.thomann.de/se/behringer_mpa40bt_pro.htm
Thomann speksit
Behringer MPA40BT-Pro, Aktiver Speaker with Bluetooth, built in 40 Watt Amplifier, Battery Power up to 12 Hours, 2 Mic Inputs, Aux Input for external CD Player, 35mm Pole Mount, Trolley with wheels, for easy handling, incl. cable and Mic
Thomann suomi sivuilta
http://www.thomann.de/fi/behringer_mpa40bt_pro.htm
Hakusanat. Hyvä vahvistin kaiutin akkukäyttöinen evankeliointiin ja pieniin kokouksiin 40 henkilöön asti. 40W = 40 henkilöä.
Halvempi malli ilman pitkää matkalaukun vetokahvaa  ja ilman pyöriä.
http://www.thomann.de/fi/behringer_mpa40bt.htm

Jukka415 Bra förstarkare PA med Bluetooth, egen batteri och 40W, mixer Behringer MPA40 BT PRO
Tässä ruotsinkielinen esittely, jossa toinen musiikkinäyte. Kiitos Jumalalle!
Jumala ei antanut evankeliumin julistamista enkeleille vaan meidän pitää tehdä se.

Voit ladata täältä sivulta Leifin ja minun mp3 taustoja evankeliointiin ja laulaa niiden kanssa tietenkin myös muilla laitteilla.