Jukka418 There is power of the Jesus Blood live video
Video ja mp3 menee C duuri, sitten D, E F ja G duurit. Näin nostetaan ylistyksessä.  Aluksi voi käyttää modulaatiosointua, joka on C duurissa G7 joka on helppo muistaa se 7 ja sitten D duuriin. Puoli sävelaskelta E-F hypäätään vain.
Sain kerran lahjan laulaa seitsemässä sävellajissa, eli se menee ympäri sitten A ja H duurit ja C taas.
PDF sanat ja soinnut A4 arkki There is the power of the blood, Det finns kraft, Löytyy voima, lyrics ackord lyrik, sanat soinnut
http://www.biblecenter.se/rsmp3/4xx/Jukka418_There_Is_Power_In_The_Blood.pdf
Jukka418 There is power of the Jesus Blood / Det finns kraft mp3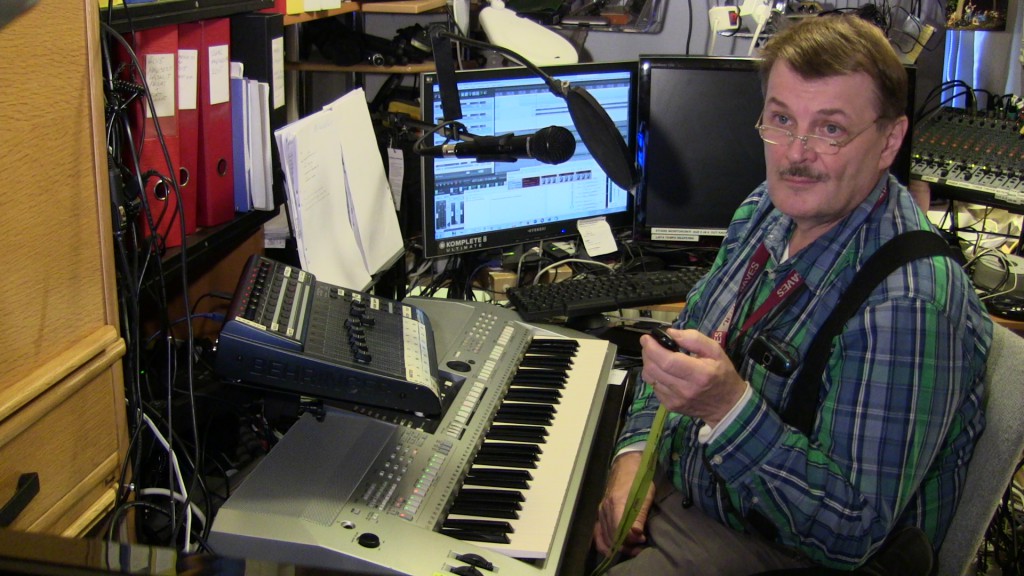 Kuva: Pop filtteri on välttämätön studiossa laulettaessa.
Tilasin järkyttävän halvan langattoman mikin Gemini VHF 1001  n. 60 EUR. Sekin tarvitsee laulumikin tuulisuojan pop filtteriksi. Tämä on halpa ja VHF, eikä ole virheetön kuten Shure UHF joka oli kallis. Mutta se menee ainakin kun vastaanotin on lähellä. Se kuitekin toimii, joten en viitsi sitä palauttaakaan. Se kesti tulla viikon Italiasta. Videon ääni on sillä. EQ on tärkeä säätää oikein. Keskialuetta täytyy korostaa.
Tämä on VHF kanava "C4" taajuus 186.6 Mhz. Se on vanhaa TV kanava aluetta, mutta ei ole tullut mitään muuta läpi. Joskus joutuu kääntämään vastaanotinta, jolloin pieni sirinä katoaa. Se ei kuitenkaan pilaa lauluja.  Täytyy testata kokouksissa enemmän sitä. Mutta hintaansa nähden käypä.
http://www.pixmania.se/tradlos-mikrofon/gemini-gemini-vhf-1001hl-mikrofonsystem/21942763-a.html

VIDEO Jumalan läsnäolo tekee sinut erityiseksi Davids preaching: Presence of GOD makes You special.  
Gemini VHF 1001 langaton on käytössä tässä videolla minulla itsellä sekä studiossa käytän  sitä. Tähän jäi liian bassoinen ääni, mutta sitä oppii muistamaan virheistä.
Tässä onnistui Shure langaton tulkille, koska Davidilla on niin voimakas ääni.
Myös thomannila on 49 EUR+ rahti 15 UHF langaton, eli nykyisin löytyy myös halpoja. UHF vielä parempi. Tätä en ole testannut.
http://www.thomann.de/se/the_tbone_tws_one_a_headset.htm#
Halvoissa on vain plugi liitäntä. Kalliimmissa molemmat plugi ja XLR.
Tässä hyviä ja halpoja laulumikkejä! Näitä on ollut jo 20 vuotta käytössä ja ovat herkkiä ja hyviä.
http://www.thomann.de/se/behringer_xm1800s_set.htm