Hei paljonko pitää olla nettinopeutta lähettävässä koneessa vähintään jotta jaksaa pätkimättä siirtää kuvadataa livenä youtubessa? ja tarviiko lähettävän tietokoneen olla tehokas? toi olis hyvä meidänkin  srk vaikka vaan silleen ku porukka on joskus kipeenä eikä pääse mukaan ni vois tolleen katsoa livenä mesessä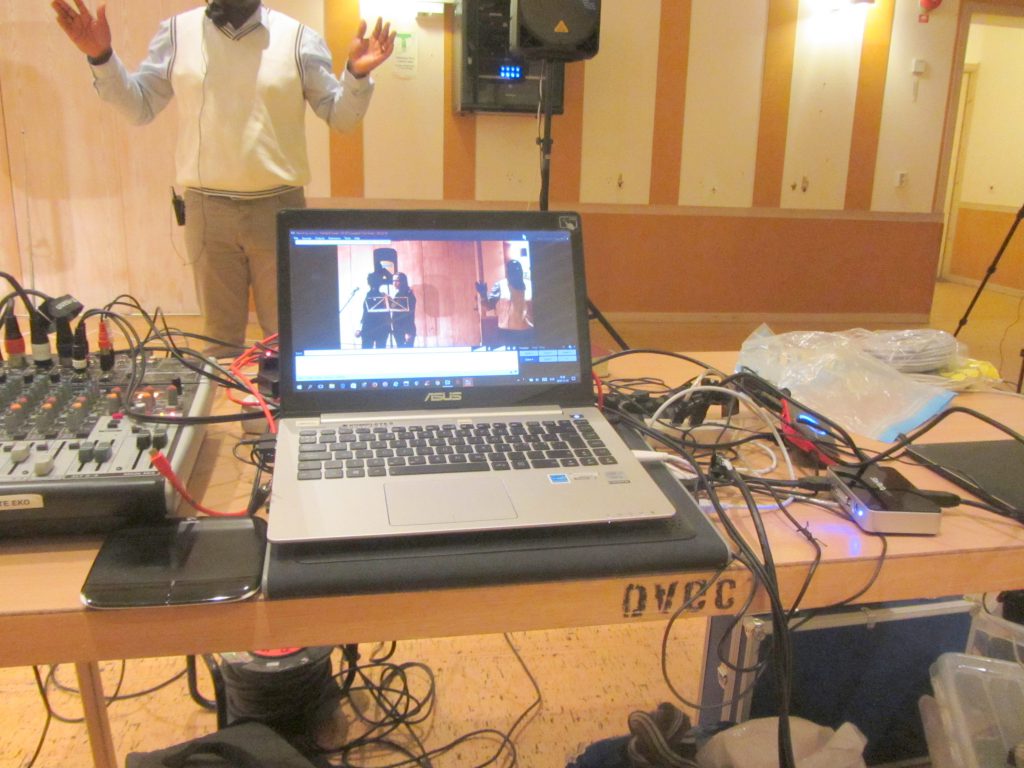 Kuva: Eilen live lähetyksessä käytössä oli 3 kameraa. 2 videokameraa ja 1 webkamera. Pöydällä HDMI to USB2  ja HDMI to USB3 boksit 2 aidolle videokameralle. Monikamera miksaus tarvii jokaiselle kameralle oman USB2 portin jota ei voi jakaa. Mutta yksi USB3 riittää ja jetaan USB3 hubeilla 10..20 Kameralle tai USB2 kytkennälle.
Upload nettinopeutta tarvitaan vain n. 2.5 mbit /s, esim minun mobiilissa oli 9 Mbit/s meillä kotona ja Tukholmassa.
Eli mobiilillakin onnistuu ja normaalilla laajakaistalla. Mobiili
laitetaan antamaan ulos wifi netti ja pc logataan siihen. Aina parempi
jos on kiinteä netti.
Yleensä upload nopeus on pienempi kuin Download, se pitää kokeilla. XSplit ohjelmassa on myös testi.
Lisäksi jos äänen perillemeno varmistus kuuntelu tehdään samalla netillä niin 5 mbit/s. Arvot HD videolle 1280 x 720 jolla lähetän.
Netin todellisen upload nopeuden voi kokeilla suomen vastaavalla kuin tällä www.bredbandskollen.se
Jos netin nopeus ei riitä voi lähettää pinemmällä tarkkuudella kuten
livets ord ja arken ennen 640 x 320, mutta nykyään nekin lähettää
youtubessa HD:na
Pääkamera laitetaan myös talletamaan videon SD kortille turvakopioksi. Pc xsplit ohjelma tallettaa samalla monesta kamerasta miksatun videon kovalevylle.
Dual prosessor konella onnistuu, esim meidän 2 x 3.2 Ghz mutta sain joskus jumiin 4 kameran kanssa, mutta varmaan 2 kameraa menee ok.
Intel core i5 kannettavalla menee 4-5 kameraa.
xsplit löytyy youtube live sändning osastosta. maksaa 35 eur 3 kk, mutta myös ilmaisella voi pärjätä.
Audio preview on vain maksullisesa, sekä näkymiä saa enemmän kuin 4
Olen kirjoittanut siitä, tässä on video esimerkkejä ja kokemuksia, tässä linkissä on jo monta artikkelia myös XSPLIT:llä tehtyjä videoita.
https://www.biblecenter.se/jeesusonherra/category/live-lahetykset/
Väh yksi web kamera tarvitaan ja mielellään yksi tavallinen hd zoom
videokamera jossa hdmi lähtö.
Jos kaikkea muuta jo on, niin tarvitaan Avermedia C875 HDMI to USB2 video konvertteri ja sen softat. hinta 1300 kr 130 EUR. Ellei tätä ole niin pelkkä web kamera esim logitech C920 mutta sitä ei voi zoomata  kuin digitaalisesti. Avermedia C875 on kuitenkin oikea ja todella hyvä HDMI to USB2 muunnin, vaikka se onkin Gamer produkt. Se tarkoittaa että jotkut pelien pelaajat nauhoittavat pelejään HDMI stä Youtubeen. Hinta n. 180 EUR Suomen hintaseurannassa. Napsauta tätä Hintaseurannan linkkiä. Huomaa Ruotsin hintaetu, mutta takuun tähden on hyvä ostaa läheltä. Tällä sää myös RGB komponenttivideon äänitettyä.
XSPLIT Ohjelman kanssa myös kaksi Startech merkkistä HDMI to USB sovitinta takkusi. Joten palautin uuden Startech ja vanha jäi. Sama juttu kahdella täysin samanlaisella WEB kameralla ja XSPLIT:llä.  Kamera oli Creative Sosialize HD 1080p. 
Tämä meillä on toisena, Startech HDMI to USB3, vaatii USB3 ehdottomasti ja saa max fullHd 60 Kuvaa/sek sekä composite, komponent ja super videon. Eli VHS kasetteja voi muuttaa youtubeen. Hinta n. 2500 KR eli 250 EUR
https://www.startech.com/AV/USB-Video-Adapters/USB-3-to-HDMI-DVI-External-Video-Card-Multi-Monitor-Adapter-1920×1080~USB32HDE
https://www.proshop.se/Input-Adapter/StarTechcom-USB-30-Video-Capture-Device-HDMI-DV/2470425
Startech HDMI to USB 2.0
https://www.proshop.se/Input-Adapter/StarTechcom-USB-20-Capture-Device-for-HDMI-Video-/2536254
Tässä oli heikko USB liitin ja palautin sen ja saan rahat takaisin proshopista (Tanska). Sen ajurit takkusivat toisen Startech kanssa.
Joten Avermedia C875 jää moninkertaisesti laadukkaammaksi niin hardwaren kuin softankin puolelta
On myös mahdollista tuplata systeemi ja lähettää toisella youtuben varaserverille. Mutta pc ja videokamera backup riittänee.
Live monikamera ohjelmista olen kokeillut myös ilmaista OBS mutta lähes joka kameran kuva on jotenkin liian leveä tai korkea.
Live video miksaus ohjelmista XSplit on brandbrytare, eli brändin murtaja, eli erittäin hyvä, se löytyy Youtube live osatosta kanavaltasi.

Live miksaus systeemissä laptop PCllä linja ääni tuodaan esim Behringer mikseristä USB2:lla. Tai muulla USB äänikortilla, tai Avermedia C875 line inputin kautta. Eli saat samat edut kuin että jos sinulla olisi videokamera line inputilla joka maksaa n. 600.. 1000 EUR, pelkästään yksi kamera. Eli sama etu kuin minulla aikaisemmin web kameroilla tehdyt studioäänivideot.

Parempi on että ääni ei vaihdu per kamera videomiksauksessa, vaan yksi jatkuva hyvä linja ääni mikserin Tape output tai Behringer tai vastaavan mikserin USB:stä.

Äänikortin tai Behringer mikserin USB Codec täytyy valita Windowsin tallennusäänilähteeksi.
Suosittelen.
t. Jukka