The answer is here, battery is 12 Volt, 5 Ah (Ampere hour). Mikä akku on PA vahvistimessa Behringer mpa40bt pro? Vastaus tavallinen 12 V, 5 Ah lyijyhyytelöakku.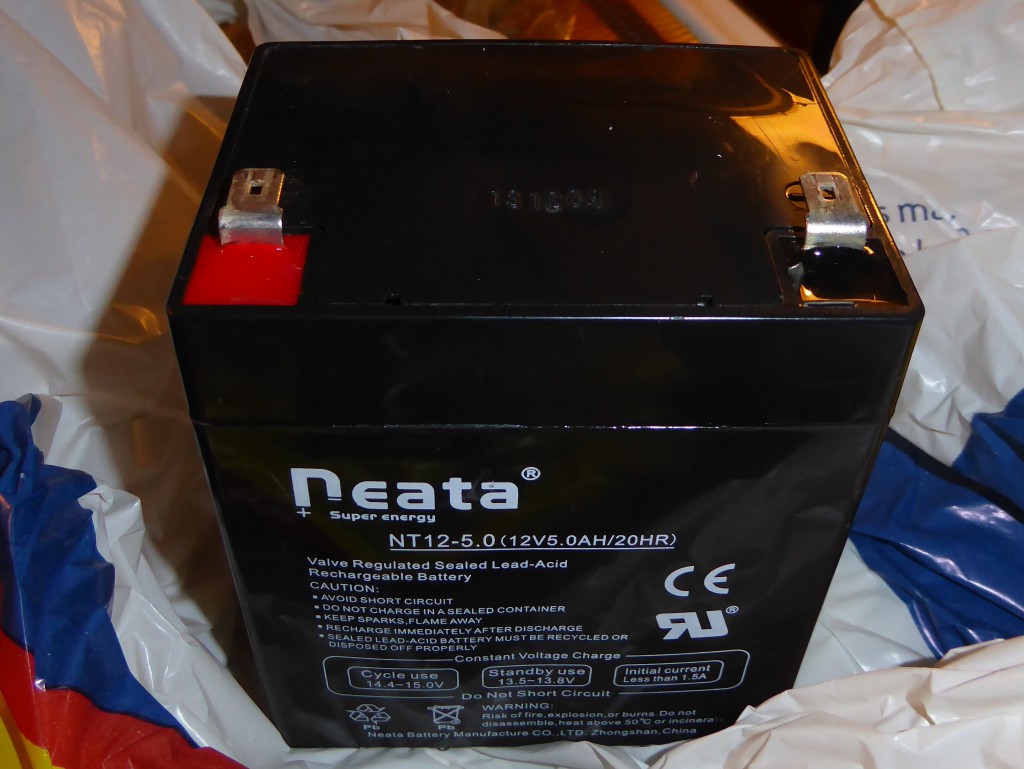 This battery is corrupted and is now replaced with a new one.
Tämä kuvan akku on kypsynyt, ja pullistunut etuseinästään n.  5 mm. Laitteen myyjä thomann ei voinut sanoa akun tyyppiä, mutta avasin luukun ja asia selvisi heti. Vastaava akku löytyi Googlella Tukholman elektroniikkaliikkeestä helposti ilman  tilausta tai todella typerää laiteen huoltoon tai takuuhuoltoon lähettämistä vain akun takia.
Linkki akun ostopaikkaan (n. 259 SEK, eli n. 25 EUR)
http://www.kjell.com/se/sortiment/el/batterier/laddningsbara-batterier/blyackumulatorer/blyackumulator-12-v-5-ah-p32711
Tämän akun liitäntä abiko korvat olivat vähän liian kapeat, mutta siitä huolimatta niissä oli lukitusnasta, joten kontaktit toimii silti.
Myös tämä sopii, mutta kalliimpi ja 5mm kapeampi.
http://www.kjell.com/se/sortiment/el/batterier/laddningsbara-batterier/blyackumulatorer/yuasa-blyackumulator-12-v-5-ah-p32883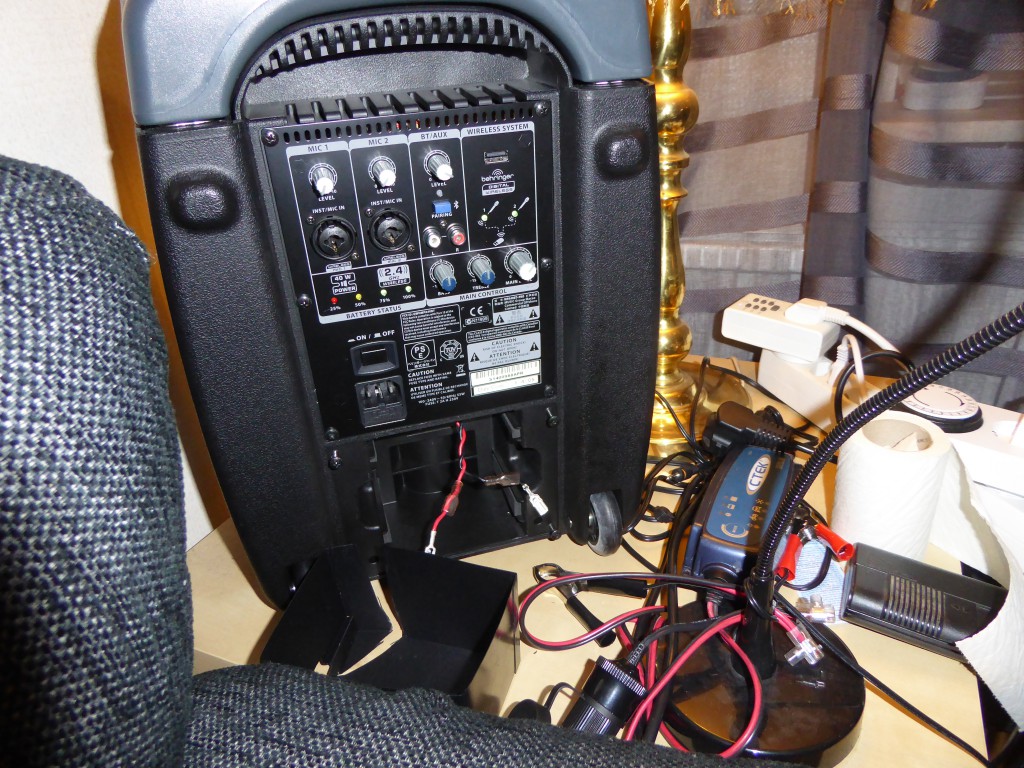 Kuvassa akku on irti, se on saman kokoisen metalliluukun takana. Huollosta tuli hyvä. Kiitos Jeesus!

Jukka414 Evankeliointi ja 40W PA vahvistin Bluetooth Mikseri Akku 6 tuntia Behringer MPA40 BT PRO
Jos soitat instrumenttia tai laulat miksi ostaisit jonkun toisen tiiliskiven kokoisen saman hintaisen bluetooth kaiuttimen, joka ei riitä kuin "radion kuunteluun" kotikäyttöön EI PA käyttöön.  PA kaiuttimet kestää ylilyöntiä esim kitarasta, matkaradiot ei.

Parannus modaus olisi tarpeen laitteelle, akun  irroittaminen kytkimellä
Jatkan kuitekin uuden akun jatkuvaa lataamista, eli 4 led valoa palaa laitteen takana. Mutta laite olisi helppo kytkeä päälle ja sammuttaa vaian roikkakytkimellä muiden laitteiden kanssa, jos akku olisi poiskytketty. Jota sitten ladattaisiin aina joskus. Mutta ei ole kivaa porata reikiä laitteeseen, eikä saa polttaa mitään, mutta tarve olisi. Ehkä se täytyy tehdä jättämällä takakansi raolleen ja siitä johdot ja kytkin kiinni takakanteen. Mutta se on sähköä akusta ilman sulaketta! Ei saa kytkeä kumpaakaan napaa laitteen maahan tai minnekään tai voi tulla pahoja seurauksia. Eli en suosittele tätä jos tekijä ei osaa!
Kotona on olohuone PA laitteet niin että kaikki sammuu roikka kytkimellä ja johdotukset on XLR mikkikaapelit aktiivikaiuttimille, jolloin kaiuttimet ei pauku virtoja katkaistaessa. Tätä akkukäyttöistä laitetta ei voi sammuttaa roikkakytkimellä, se syö sitten akkunsa tyhjäksi.
Ehkä laite jäi päälle ja akku pääsi tyhjäksi joksikin aikaa. Yleensä ne voidaan elvytysladata vain auton akusta johdoilla muutama minuutti ja sitten jo elektroninen akkulaturi osaa ladata. Nykyajan laturit kun eivät osaa ladata tyhjiä akkuja, jolloin juuri laturia tarvittaisiin kaikkein eniten!!!
Näin olen toiminut erään toisen sovelluksen kanssa jossa 12 V 7 Ah akku, olen elvytysladannut täysin tyhjäksi menneen akun auton akusta muutaman kerran ja se toimii vieläkin . Tarkistin DC virtapihdillä että virta oli vain 0,3 A! suoraan 12V auton akusta, (ei auto käynnissä), eli ei ollut vaarallista.
Eli vanha metallikoteloinen akkulaturi jossa on vain käämitty muuntaja ja tasasuuntaja ja ampeerimittari olisi arvokas tänä päivänä hätäapu elvytyslaturina. Ko. akku oli pullistunut niin en elvytysladannut sitä. Pikkuakkuja voidaan ladata 1 A virralla.
Tässä on linkissä aikaisempi pitkä artikkeli Behringer mpa40bt pro akkukäyttöisestä PA vahvistimesta
https://www.biblecenter.se/jeesusonherra/jukka414-evankeliointi-ja-40w-pa-vahvistin-bluetooth-mikseri-akku-6-tuntia-behringer-mpa40-bt-pro/